Cerevo Unveiled a New Revolutionary Video Encoder for Live Streaming, LiveShell X
A Press Release From Cerevo
18th April 2016, Las Vegas
Cerevo Unveiled a New Revolutionary Video Encoder for Live Streaming, LiveShell X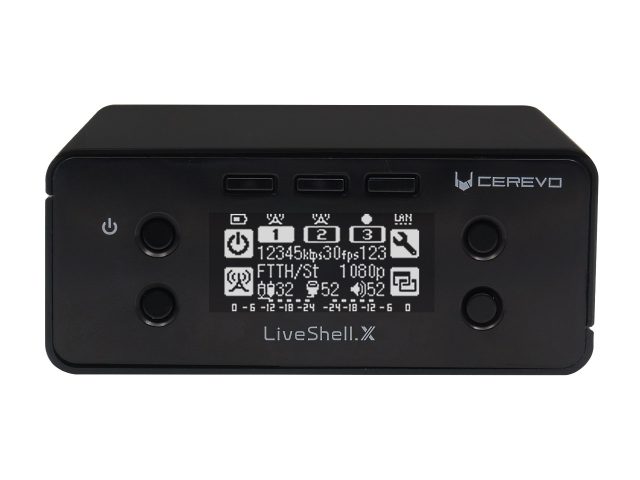 Supporting H.265/H.264 Live Encoding up to 1080/60p, Realtime Recording, and Multicasting up to 3 Simultaneous Streams
Cerevo, the IoT startup based in Tokyo, has announced "LiveShell X" the latest and highest model in it's line of award-winning LiveShell series devices that enables you to live stream without the need for a PC. Priced at $699, LiveShell X is scheduled to be shipped in Summer 2016, and will be exhibited at NAB Show in Las Vegas, USA.
PRODUCT INFORMATION
Product Name: LiveShell X Product Code: CDP-LS04A
Stable, professional PC-less live streaming Full HD video broadcasting without the need to rely on a PC for live streaming.

Up to 3 simultaneous streams The multi-streaming function enables you to stream multiple services simultaneously while sending video to a backup server. You can also broadcast multiple streams to one streaming service with different bit rates.

H.265/H.264 live encoding up to 1080/60p LiveShell X features leading edge H.265/AAC encoding, supporting video at up to 1080/60fps and a bit rate of 20Mbps.

Realtime recording during live streaming LiveShell can record to a microSD card directly, to make a backup copy for your H.265/H.264 encoding live broadcasts.

Preview on your tablet With VLC player, LiveShell X let you do the realtime preview (360p).

Lower thirds support Add the subtitles, logos and graphics on your live streaming.
[
Click Here for List of Specs...
]
EXHIBITION INFORMATION Event: NAB Show April 18-21 Booth address: Las Vegas Convention Center, booth C9250 URL: http://nabshow.com/